Promotion of Research and Innovation for Undergraduate Students (PRIUS)
To promote and support research and innovation based projects amongst undergraduate students, IIT Indore has started a new scheme through which it supports:
undergraduate students in the research laboratories at IIT Indore,
undergraduate students for international collaborative research projects, and
encouraging projects leading to innovation by undergraduate students
The scheme is applicable for undergraduate students enrolled at IIT Indore and a part of the PRIUS project must be carried out at IIT Indore. For the implementation of this scheme, the student who wishes to pursue an undergraduate research project must identify a faculty supervisor from IIT Indore. PRIUS undergraduate projects should typically run for a period of at least six months and it is to be understood that these projects will not in any way come in the way of the student's regular academic obligations and requirements for fulfilling the requirements for the award of degree. Undergraduate students identified to utilize this opportunity must finish their work before the end of final semester of the coursework.
Some of the completed and ongoing PRIUS projects carried out by undergraduate students of IIT Indore are listed below:
Ultrasonic Machining (USM) Device - Design and Fabrication
Design and Development of a bio-mimetic robotic fish using smart materials
Design and Development of Inverted Stewart Platform for 3-D Printing & Micro-Machining
Design and Development of highly efficient wave energy converter (WEC)
Design and Development of a Lower Limb Rehabilitation Robot
Design and Development of a DOF Manipulator
Design and Development of Shape Memory Alloy (SMA) actuated Directional Control Valve (DVC)
Designing Water Flow Controller for Dual Ion Beam Sputtering Deposition (DIBSD) Facility
Automation of Abrasive Jet Machine Setup
Investigation on Resource Allocation Algorithms for Green Cellular Networks
High Energy Physics
List of Publications in International Journals/Conferences from PRIUS funding for undergraduate students:
PRIUS Project Title: A Protocol to manage and control IoT-enabled devices using smartphones. Supervisor: Dr. Gourinath Banda
Publication in International Conference (In Press):
Dr. Gourinath Banda, Chaitanya BK and Harsh M., An IoT Protocol and Framework for OEMs to make IoT-enabled devices forward compatible, SIGNAL IMAGE TECHNOLOGY & INTERNET BASED SYSTEMS, 2015
PRIUS Project Title: Design and development of  3/2 Shape Memory Alloy (SMA) actuated Directional Control Valve (DCV).
Supervisor: Dr. I.A. Palani and Dr. B.K. Lad
Publication in International Conference:
Himanshu Singh, Pratik Juikar, Failure Diagnosis & Reliability Assessment of NiTi Shape Memory Alloy Spring for Micro–Actuators, Proc of International Conference on Robotics, Automation, Control and Embedded Systems – RACE 2015, At Hindustan University Chennai, IEEE Catalog Number: CFP15A39-POD , ISBN: 978-1-4799-7077-3
Innovation and Entrepreneurship Support Cell (IEDC)
Department of Science and Technology (DST), Government of India, funded Innovation and Entrepreneurship Development Centre (IEDC) has been setup at IIT Indore in 2014 with the aim of nurturing and fostering innovation and entrepreneurship culture. The Centre has supported on-campus student activities through Student Entrepreneurship Support Cell (SESC) and supports student entrepreneurial ideas.
The mission and vision of IEDC is to bring in more proactive members: who will be "creators" rather than "producers", who will challenge the usual, and conquer the so called impossible, encouraging IIT Indore students and wider community towards entrepreneurship with focus on job creation, and to have a self-sustaining incubation centre and generate endowment funds for the Institute. Some highlights include runners up trophy in National Entrepreneurship Network (NEN) E-Week 2015 challenge for Central Region (including Gujarat, Maharashtra and Madhya Pradesh), 2nd position in National Entrepreneurship Challenge organized by IIT Bombay in January, 2014, 1st IIT Indore on-campus start-up launched in February 2014, and 2nd on-campus start-up launched in February, 2015, Best Debutant Award from E-Week 2014 by NEN in March 2014.
In the first year itself, the entrepreneurial ideas supported by the centre have generated IP filings and have received several awards. The advisory board of IEDC includes representatives from DST, MSME, SIDBI, SBI, RRCAT, IIM Indore, NEN, IIT Indore and entrepreneurs. IEDC has been able to attract VCs willing to invest up to Rs. 1 Crore, and with IIM Indore the Centre is organizing i5summit, the largest entrepreneurial summit in central India.
More details on IEDC can be explored at http://www.sesc.in/
Incubation centre has been successful in setting following start-ups:-

Esmartify Pvt. Ltd. on Internet of Things
Swaaha Resource Mgt. Pvt. Ltd. on Waste Management
Chota Hospital on helathcare IT (commencing soon)
Continuing Education Programme (CEP)
IIT Indore has organized several Continuing Education Programmes (CEPs) and Short Courses for working professionals in industry, institutions and universities across India, to enable them to update their knowledge and skills, and also to train them in state-of-the-art facilities. The details of CEPs organized at IIT Indore are listed below:
Advances in Gear Engineering, November 19-23, 2012
Workshop on Modern Spectroscopic Techniques, February 22-23, 2013
Workshop on Modern Spectroscopic Techniques, July 6-7, 2013
Short Term Course on Introduction to Research, March 22-23, 2014
Short Term Course on Mechatronics & Robotics, July 15-19,2013
Nanoscience and Nanotechnology: From concepts to applications, October 17-19,2013
Molecular Charecterization Techniques, March 06-07, 2014
Bearing & Gear Fault Diagnosis, 21-23 March, 2014
Applied Econometrics, May 12-14, 2014
Measurement Techniques in Thermal Engineering, May 30-31, 2014
Nanoscale Science and Engineering: Material, Electronics, Photonics, Biosensors and Beyond, June 23-25, 2014
Short-Term Course on Mechatronics, MEMS and Micro-Fabrication, July 7-11, 2014
Scientific Writing, July 11-12, 2014
Scientific Communication, December 12-13, 2014
FACS Master Training Workshop, March 20-22, 2015
Short Term Course on Signal and Image Processing, May 30-31, 2015
2nd Short Term Course on Mechatronics, MEMS & Micro-fabrication, July 6-10, 2015
Intellectual Property Rights (IPR)
IIT Indore promotes innovations and facilitates protection of Intellectual Property (IP) of its faculty, other employees and students. While a formal framework to guide the implementation is an evolving process, IIT Indore has a set of empanelled patent attorneys to help the innovator at IIT Indore in the process of successful filling of the patent application. Parties engaged in creations of original and innovative work at IIT Indore include undergraduate and postgraduate students, and faculty members. In the short span of five years, the institute has filed 10 Indian patent applications and many more are at the filing stage.
Sponsored Research Projects
The research and development section facilitates the submission of sponsored research projects by faculty members to various funding organizations such as Department of Science and Technology (DST), Council of Scientific and Industrial Research (CSIR), Board of Research in Nuclear Sciences (BRNS), Department of Biotechnology (DBT), Indian Council of Social Science Research (ICSSR), and many more.
In the short span of five years, IIT Indore has secured 77 externally funded sponsored research projects, focusing on pure and applied research, from different government agencies such as CSIR, DST, DAE-BRNS, etc. The research funding is projected to be around Rs. 22 Crore. These projects form the basis of research work of over 350 postgraduate and PhD scholars in the institute and many collaborations with industrial and national/international universities.
For more details on the completed and ongoing sponsored research projects please visit the Project Portal.
Industrial Research and Consultancy
In order to foster strong links with industry for collaborative research, technology transfer, and specialized human resource development, consultancy services are offered to industrial partners, government organizations, and other agencies in niche areas of expertise available within the institute. Consultancy and related services offered at IIT Indore are classified into two categories:
Expert Advice and Development Projects
Testing Projects
Some of the ongoing and finished consultancy projects at IIT Indore are listed below:
Vibration Measurement and Reduction of JMG
Root Cause Analysis of Repetition Failures of the Air Cooled Condenser (ACC) Gearboxes
3 Phase Inverter Drive with Protections
Laser forming for Manufacturing of break Pedals and Clutch Pedals
Rolling Mill and Auxiliary Equipments
Spline Hubs for Clutch Plate
Measurement of Microhardness and Tensile Strength of given Samples
Tensile Testing
Measurement and Analysis of Surface Roughness of Samples of Metal Matrix Composite
Conferences, Workshops and Seminars
IIT Indore has organized several conferences workshops and seminars at national and international levels to facilitate interaction and sharing of the latest results and findings in various specialized areas. Such events also act as an interface between industry, academia and government organizations and promote exchange of ideas. Research scholars gain much needed exposure through these events which are critical to their educational experience and preparing for the future research endeavors.
Some of the conferences and workshops organized by IIT Indore are listed below:
Engineering at Nanoscale : From Materials to Bio Sensors, Winter Workshop 2012, December 10-12,2012
International Workshop on Surface Science & Engineering, March 4-5,2013
SERB School on Combustion Modeling and Diagnostic, October 7-11,2013
8th Conference on Non Linear System & Dynamics (CNSD), December 11-14,2013
2nd International Conference on Intelligent Robotics, Automation, and Manufacturing, December 16-18,2013
1st Multidisciplinary Conference in HSS - Beyond Boarders, December 20-21,2013
International Symposium on Complex Analysis and Conformal Geometry, December 28-30,2013
Laboratory Health and Safety Workshop, April 4, 2014
8th International Undergraduate Research Symposium, January 5 - 9, 2015
PhD Scholars and Research Staff
Research and Development (R & D) section facilitates the recruitment of Scientists, Postdoctoral Fellows and Junior/Senior Research Fellows under externally funded sponsored research projects from different funding agencies. The scientists working at IIT Indore are Ramanujan and Ramalingaswami Fellows, Inspire Faculty awardees, along with those from the Women Scientist scheme of Government of India. These scientists are provided facilities similar to a faculty members of the Institute.
The institute has a provision of recruiting postdoctoral fellows within each discipline/centre/school. Also junior/senior research fellows are recruited through funding of various sponsored projects.
As research work is an integral and very significant part of the doctoral research work, the selection of PhD scholars carried out by each discipline/centre/school is routed through R & D section.
Memorandum of Understanding (MoU)
Research and Development (R & D) section facilitates the signing of MoU related to research activities with different organizations on topics of mutual interests.

IIT Indore has signed National & International MoU's with the following organizations/universities/institutes:
NATIONAL COLLABORATIONS/ MoU's
INTERNATIONAL COLLABORATIONS/ MoU's
Open Day
Open Day provides an opportunity to the prospective PhD candidates to take a tour of the research and teaching facilities at IIT Indore. Open Day is mainly catered for students in the final year of their degree courses and wishing to pursue Ph.D. or M.Sc./M.Tech. at IIT Indore.
First Open Day of IIT Indore was organized on March 28, 2015. Many prospective PhD students and researchers used this opportunity and interacted directly with the research scholars, postdoctoral fellows and faculty members. They also visited the state-of-the-art research facilities and enquired about residential and other facilities at IIT Indore.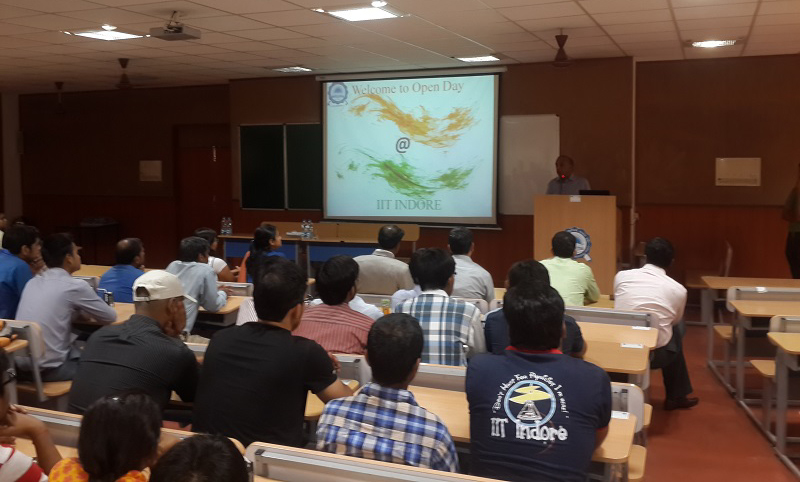 Visitors under Different Schemes
IIT Indore hosted undergraduate students from Assam University, Silchar, under the Ishan Vikas Programme for about two months in the summer of 2015. The students were given lectures by experts in different specialized topics and they interacted with students and faculty members. Students also explored the cultural heritage and historic areas in and around Indore.
IIT Indore hosted a familiarization meeting of engineering students from Kashmir valley at its PACL campus in July 2015 as part of Operation-Sadbhavna XVIII organized by the Indian Army. The session included interaction between students from different engineering colleges in Kashmir valley and faculty members in engineering disciplines of the institute.
International Collaboration
List of publications as a result of collaboration with foreign research groups